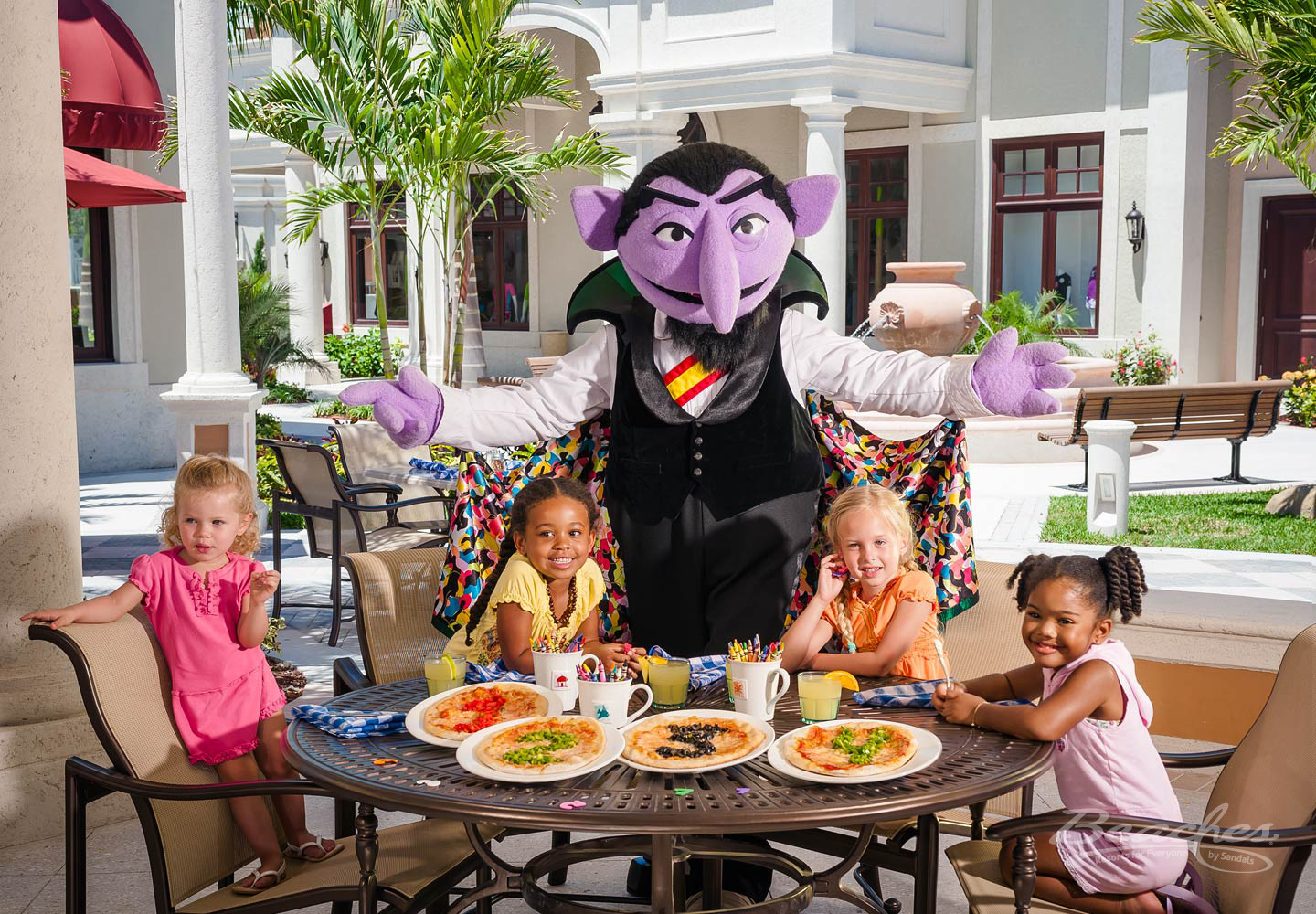 Because I am a lifestyle portrait artist for my families often my clients ask me to give suggestions as to the perfect place that offers both romance and an all inclusive experience for their children …a tall bill to fill actually! I mean think about that for a moment.. I can always find you a place that has seclusion… a sexy little getaway for just the two of you but to provide that intimacy and at the same time have a program that entertains the children is almost asking me for the exact opposite in an experience.
When I became a Certified Sandals Consultant I did so with my littles in mind. I have no worries sending my clients to the Beeches brand because I have researched it and know what they offer is unsurpassed by way of family vacation experiences. There are several reasons for this but the partnership we have with Sesame Street has been a big seller. What little wouldn't want Big Bird dancing with them on the beach, or Count Dracula tucking them in at night in their private casita? Elmo and the whole gang are there everyday playing in a program that offers an opportunity for a fun filled day safely while you and daddy are poolside or seaside or getting a massage or getting it on… cause let's be serious about this situation it is everybody's vacation not just about the kiddos!
What I am most proud about is we have the only Autism Certified program in the Caribbean!  This resort has acknowledged the need for special programming to assist families and serve them with children who have special needs. I know of no other resort that has taken this step forward to provide the most for their families in vacation experience mode. How wonderful to go to a place that understands and provides exceptional services for all families in all circumstances! It's just like what I have provided by way of fine art photography for 20 years for my clients which is why I partnered with Sandals in the first place! Now I am able to provide exceptional vacations for clients that expect the same level of service that they have gotten from me as their photographer. Shhh… its a well known secret too that "Auntie A" travels with her clients to capture their family time and yes… that also means popping over for a day or so to capture the littles with these wonderful characters at Beeches resorts! If you are still planning a vacation for summer we have to act now…Thanksgiving and Christmas too as I am finding many of my favorite spots to send clients are booked already… Spring break 2019 is what we are currently booking for now but it's not too late to grab a steal of a deal… just text me and I can get started on it today. With deposits as low as $300 its ridicules not to get something reserved for making beautiful memories today!