As a Photographer and Lifestyle Designer I have for 20 years assisted my clients in creating beautiful spaces in their homes. One key element that completely transforms every space is art and photography on the walls. What we place and how we place it makes a difference in the feel and ambiance that space's energy gives off. Here's some great options when hanging art.
Perhaps the most important one thing you can do to personalize your home is to hang pictures of your family. That is why almost every realtor asks first thing for new listings to remove all personal items before they can show the house. There on your walls is a lot of space that can be personalized and not just with actual portraits but with art, with cool grids and textures. Walls are a very important part of any space and hanging art creatively will dramatically change the way each space feels.
There are several ways that I like to hang art for my clients. Here are some examples of what you can do to elevate your living space with your photography or paintings in any space.
You can make one large Statement by selecting a piece of art that hangs alone and make it a size worthy to see and admire. Like a 20×30, or larger… add a cozy chair or an accent table in front of it. The next style is what I call the Collector. Collect several pieces with varying sizes and stack them on floating shelves along the wall. This style is very free and appears that you are more creative and laid back than the prior.
The Gallery wall style is nice because it allows for multiple sizes and multiple mediums freely without creating an unorganized and lost look. I usually use different but coordinating frames and do collections such as all of the art is in one medium say photography and all of that is the same…say sepia or black and white. This keep a streamline of consistency in what look you are achieving. However, mixing multiple mediums such as paintings and shadow boxes and photography is equally interesting and the best way to do it is to trace out the design first and then place painter's tape on the walls and then start hanging. The most structured style of hanging is the Grid. It is very simply achieved by hanging in a tic tac toe pattern six exactly the same size in exactly the same frame pieces. For my clients that thrive on symmetry and are never able to just purchase that one lamp for feeling like they will be off balance… this is what I always recommend for them. You must measure all of this out again similar to the gallery style so that exactly the same space is calculated between each picture. I usually do 1-2 inches between the frames. For the library or home office I like to utilize the bookcase. The Bookworm is really cool because it stares back at you from a backdrop of books. Easy to install because all you do is hang it on the actual bookcase! The Mantle is one place that should always have some art. Coupling candles and leaning pictures with a mirror is aesthetically pleasing and personalizes the space. Small spaces between windows or accent panels of brick can always be dressed up by hanging art that is vertical. Whether it is hung as one long piece or as a grouping vertically, each offer more interest in spaces that are often overlooked in decorating. Traditional hanging is best described as balanced. It is comfortable to your eye and easy to achieve by first selecting a mirror say as the center star and then surround that with a vertical hanging on either side in exactly the same size smaller frames and spaces in between each.
As you can see there are many ways to hang art in your home and countless ways to create beautiful spaces with art. The design is created once you select the style that best suits you. Each deliver an impact to any space and I advise my clients to hang in multiple styles throughout their living spaces. In this way your home is a unique statement of you!
~Alisa
Have a design question? Email me at alisamurray@yahoo.com
Illustration and inspiration credits go to Elements of Style   Erin Gates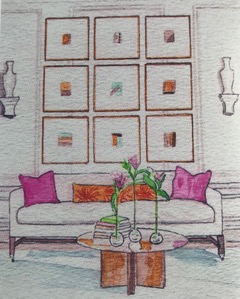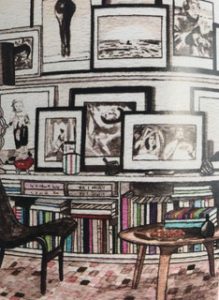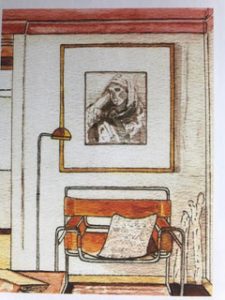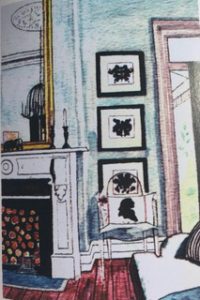 How Sweet it is to be LOVED by YOU! How cute is this sweetness? Alisa's Signature Roses at 6 months Shots!